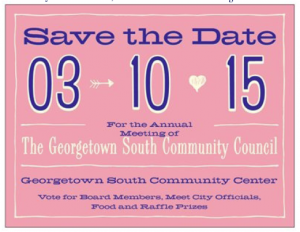 Please join us for the 2015 Annual Meeting of Georgetown South Community Council, Inc. The meeting wil begin at 7:00 p.m., but sign-in, Meet the Board Candidates and voting starts as early as 6:15 p.m. The meeting includes the election of members to the Board of Trustees, a presentation of the 2014 Accomplishments in and what to look forward to in 2015. City officials have been invited to listen and respond to your questions, concerns and compliments. We will serve light refreshments at the beginning of the meeting.
There will also bea raffle with prizes such as the cash equivalent of your monthly HOA fee, gift cards for restaurants, stores, and movie theaters. Winners will be announced at the end of the meeting and must be present to accept their prize.
In the event of Snow/Ice –  the alternate date for the Annual meeting will be March 17, 2015.
If you like the direction Georgetown South is taking, please attend and let's discuss how to improve even more. If you have suggestions to offer, constructive criticism to provide, we welcome your attendance and ideas.
If you cannot attend the meeting, please return your completed proxy so that you may vote for the Board members who will serve you for the upcoming two years.
If you would like to be a part of the positive changes, call Community Manager Meg Carroll at 703-361-4500 or email her your concerns, suggestions and scathingly, brilliant ideas to MCarroll@gtownsouth.com.
Similarly, if you have a complaint or criticism, please use the directory included in the Spring Crier Newsletter at links below to email or call a staff or Board member.
2015 Spring Crier News – English     |   2015 Spring Crier News – Spanish